CONTACT US
SEND INQUIRY NOW
Tel: +86-757-81859859
Phone: +86-18902413057
Email: [email protected]
---
1kg Corn Flour Packing Machine for PE Film
---
This is a fully automatic powder packaging machine, consisting of a screw feeder, a powder screw metering device, a 420 main machine and a finished product conveyor.
The biggest feature of this machine is that it is used for PE film packaging. PE film has special sealing characteristics, which is different from the conventional composite film sealing structure.
Machine Component
1) Main packing machine, 2) screw auger filler device (powder screw metering device),3) screw feeding device, 4) output conveyor (the finished product conveyor).
Main packing machine :Fully complete the production process of feeding, metering, filling, bag making, date printing and product output.
Auger filler device: Powder metering device is made of high-quality 304 stainless steel, with inclined screw metering device, which is accurate in weighing and measuring. The weighing and measuring speed is fast.
Screw feeder: The material is lifted by the feeder to the main packaging machine, which can realize material level tracking and automatic feeding with the bag, and electric eye induction control to ensure sufficient material. It can also be used alone in other occasions
The finished product conveyor: It is installed at the product outlet of the main machine of the packaging machine, which allows the finished product to be transported away from the bottom of the main machine, avoiding product accumulation and blockage and causing downtime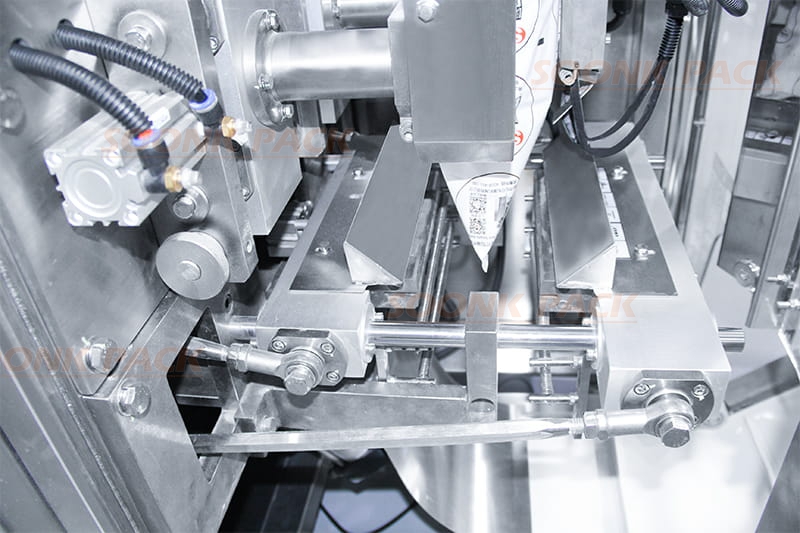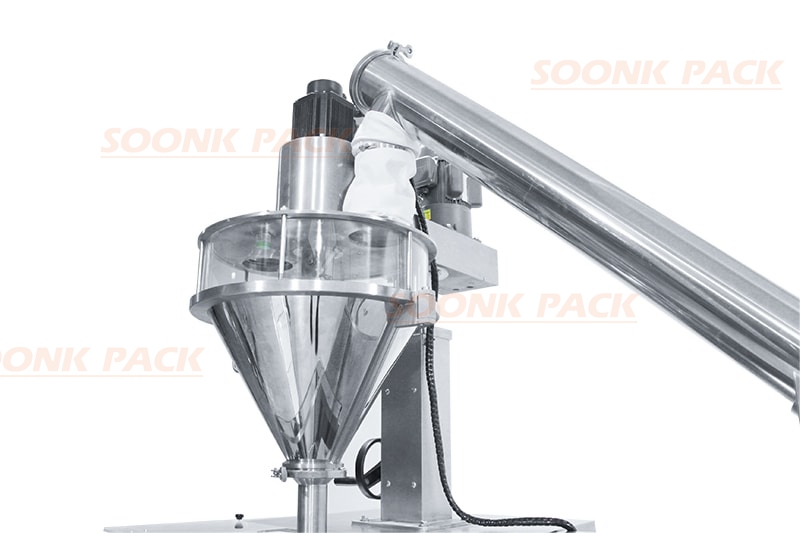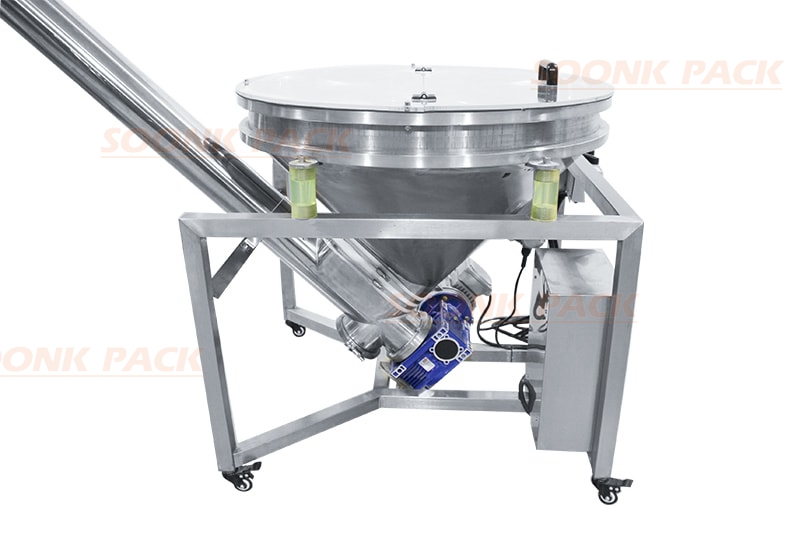 Performance Characteristics
The feature of the machine is used for PE film packaging. PE film has special sealing characteristics, which is different from the conventional composite film sealing structure.
1、The compact structure , firm , reasonable design , concise.
2、Spiral measurement , stepping motor drive design is reasonable and reliable , stable performance.
3、Fast speed , high precision , low noise and low failure rate.
4、It can finished automatically from metering ,filling , date printing to product output and counting
The screw conveyor is driven by the servo motor to rotate to lift the material to the powder screw metering device, and the powder screw meter is used to measure the weight, and then the material with the target weight is filled into the packaging machine, and the finished bag is output by the finished product conveyor.
It can realize automatic lifting, measuring, forming and sealing bags, date coding, and output a series of automatic packaging processes.
All kinds of powder materials with good fluidity, such as flour, soybean flour, corn flour, coffee powder, washing powder, chili powder, ginger powder, pepper powder, seasoning powder, clay powder, lime powder, diatom mud powder and other powder products.
| | |
| --- | --- |
| Model | SK-L420DL |
| Air Consumption | 0.65mpa, 2.5m3/min |
| Packaging Film | 180-420mm |
| Bag Length | 80-300mm |
| Bag Width | 80-200mm |
| Packing Film Roll Diameter | Max.360mm |
| Packaging Speed | 5-80bags/min |
| Packing Thickness | 0.04-0.08mm |
| Power Supply | 220V, 50Hz/60Hz, 2.4kW |
| Dimension | (L)1100*(W)925*(H)1650mm |
| Total Weight of Machine | 450kg |
Standard pillow bag can be equipped with punching devices (butterfly holes, round holes, portable holes)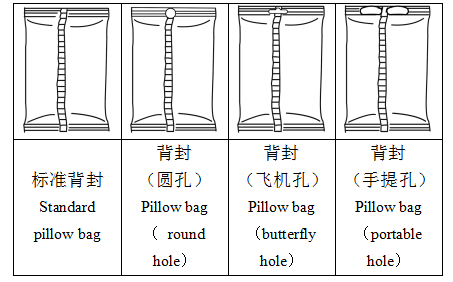 We need to know the material, bag size and weight, these things are very important to the packaging machine. The designer will provide a schematic diagram and a salesperson to provide a quotation plan based on the customer's material, weight and bag size. For 1kg Corn Flour Packing Machine for PE Film Machine, the common questions from customers are as follows.
1. Need to judge whether the material is suitable for the machine? It is best to send the materials and packaging film to our company for free testing. 2. What powder characteristics are suitable for machine packaging? Our machine is suitable for dry, fluid, non-sticky and non-heating powder. 3. Regarding the size of the bag, what should the customer do if there is no bag size? The suggestion is to experiment with local markets and supermarkets to see which bag type and the weight you want to pack are the most popular. 4. Is the more shapers better, so that more bag sizes can be packed? A set of machines can produce up to 3 formers, because the technology of replacing the formers is complicated, and changing the formers multiple times will result in the bag deviation. 5. How to choose the material of the machine? Our machine has two materials, one is stainless steel and carbon steel. If you are pursuing high quality, choose stainless steel. If your financial budget is difficult, carbon steel is recommended. Although the appearance of the machine is carbon steel, the parts that come into contact with the material are made of stainless steel. 6. What is the error? Generally speaking, it is ±1% (depending on the characteristics of the material) 7. How many days does it take to produce a machine? , The production time is about 20-30 days, because our machines are installed and debugged at the same time to ensure high quality. 8. The customer also asked how long is the machine warranty period? We offer 12 months warranty, starts from the issue date of bill of loading and life time maintenance service. 9. Customers most often ask how to install and operate the video? You can't worry about this at all. Our company needs to provide user manuals, installation videos and operation of the machine, you can provide technical services when you encounter problems.
CONTACT US


Foshan Soonk Packaging Machine Co., Ltd.
We are always providing our customers with reliable products and considerate services.
If you would like to keep touch with us directly, please go to contact us