CONTACT US
SEND INQUIRY NOW
Tel: +86-757-81859859
Phone: +86-18902413057
Email: [email protected]
---
Ice cube /ice tube packing machine for 160g
---
The automatic ice cube packaging machine packs 160 grams of ice cube products, and the automatic ice cube packaging machine packs 160 grams of ice cube products. This packaging machine uses the SK-L420 mainframe to match the feeding machine and weighing and measuring device, and the finished product conveyor is used to pack 160 grams of ice products.
Machine Component
1) Main packing machine, 2) Two heads scew weigher 3 ) Finished bag conveyor
Some detaied pcitures of ice tube /ice tube packing machine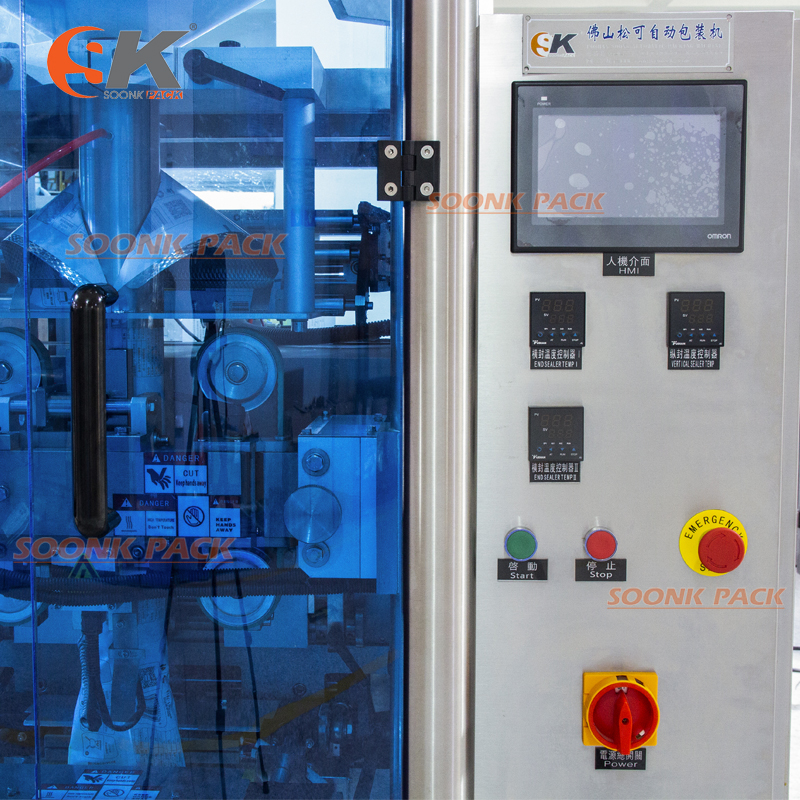 Intelligent industrial-grade touch screen
Bag former device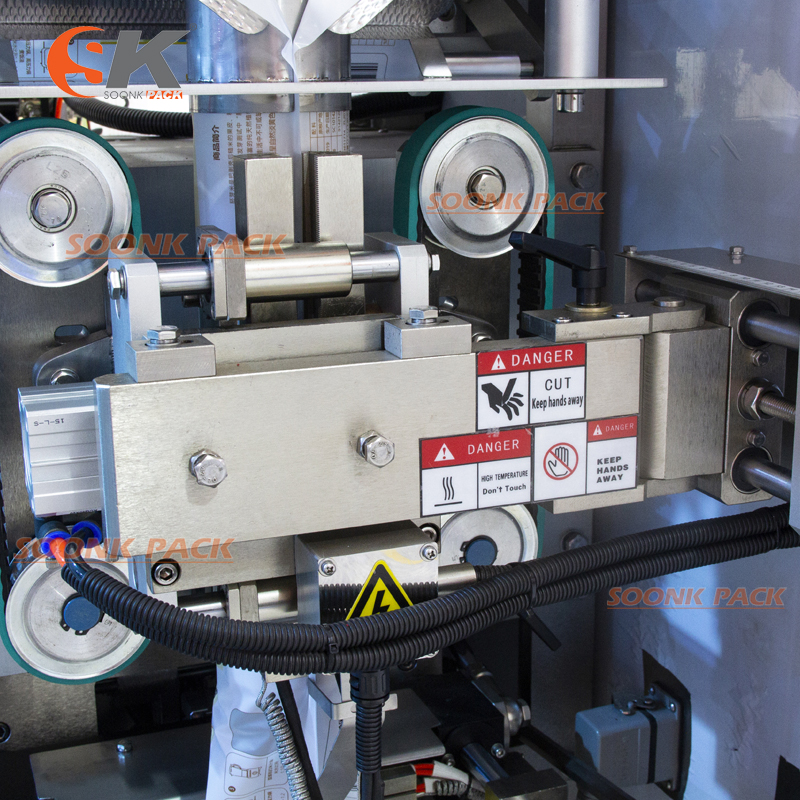 Vertical sealing device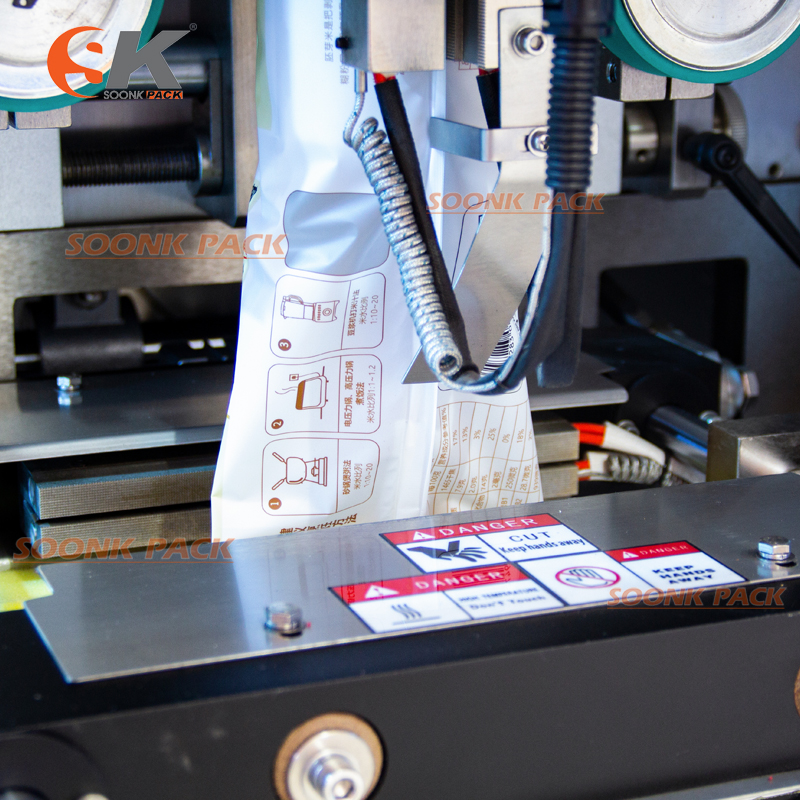 Horizontal sealing device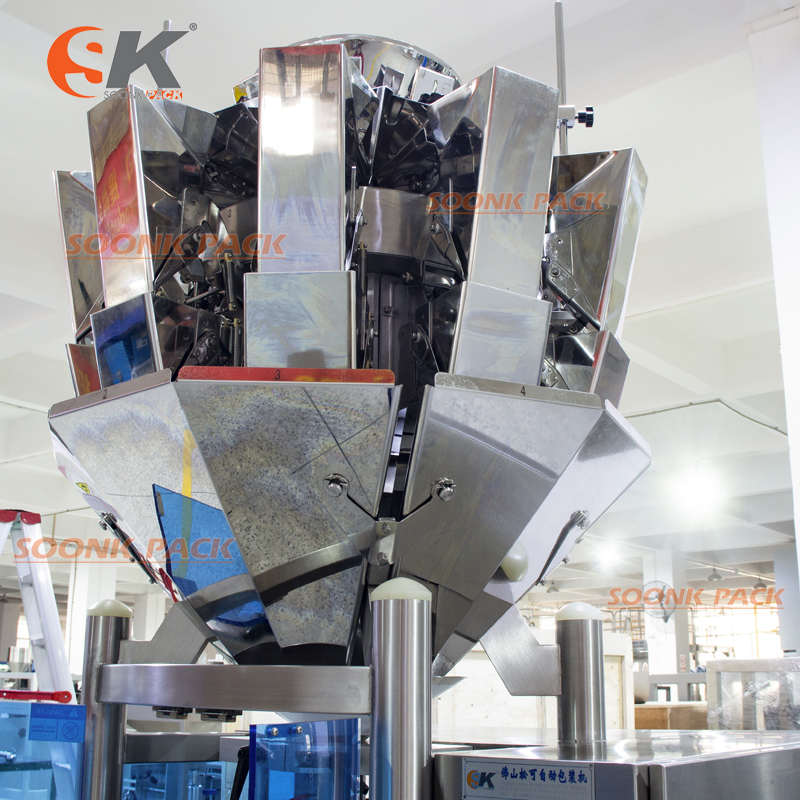 10 heads weigher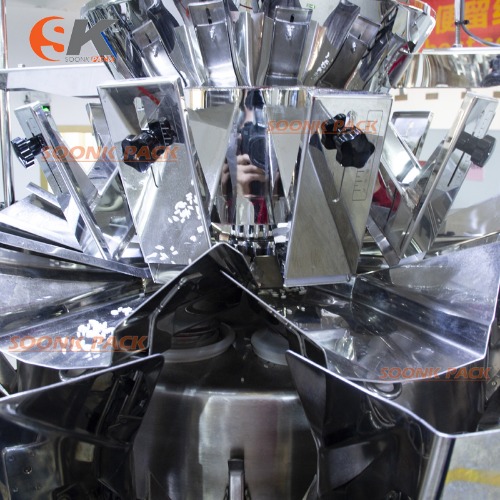 Stainless steel collection hopper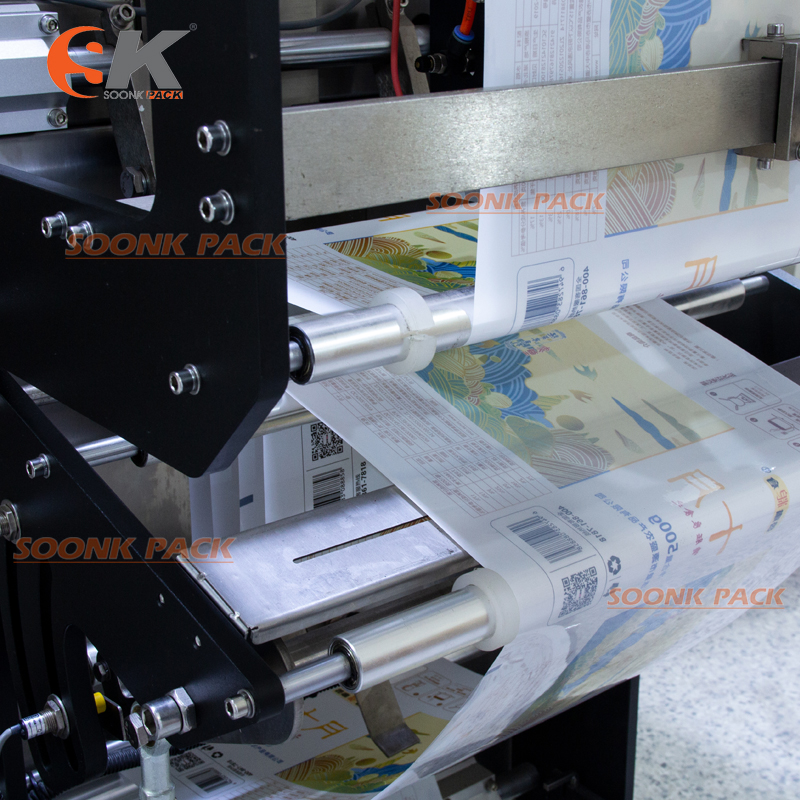 Film transport device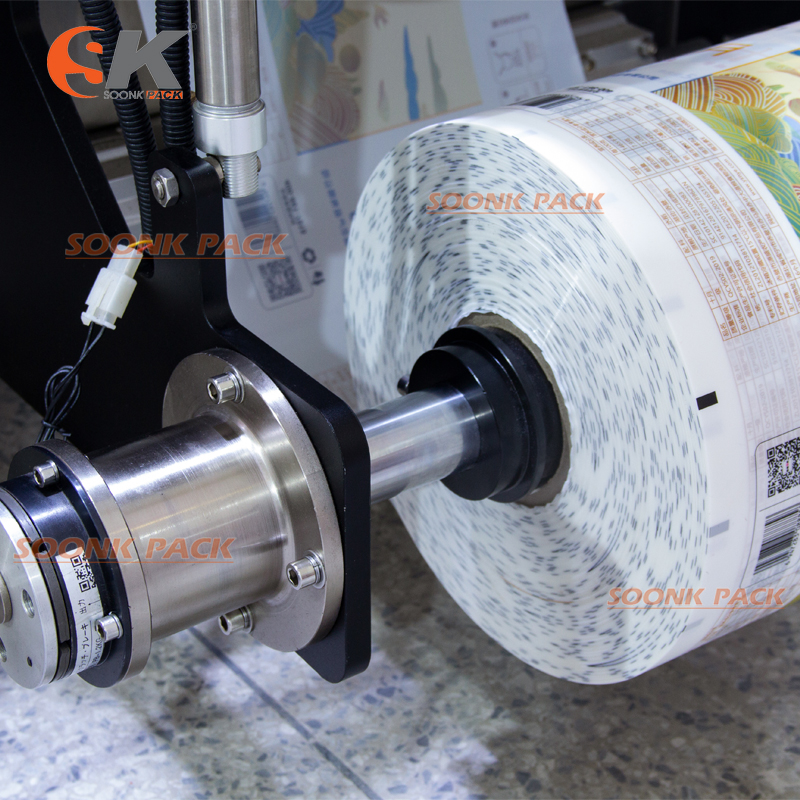 The film release device
Intelligent industrial-grade touch screen: high sensitivity, stable operation, easy to understand and easy to operate; three temperature control meters, indepen-dent control and stability,making beautiful bags
Bag former device : The bag former is specially designed to pack ice cubes, which is different from ordinary bag formers. The former is mainly designed for the problems of moisture and slippage encountered in the ice cubes packaging process, so that the film can run smoothly and seal.
Vertical sealing device: The vertical sealing device has a compact structure and uses the principle of pasting to make the film instantly heat-sealed. It is mainly designed for the special sealing of PE film material. Let the sealing lines seal neatly.
Horizontal sealing device: The horizontal sealing device is unique in design and is also specially designed for PE film material sealing. At the same time, the horizontal sealing part is equipped with an advance bag clamping device, which can prevent the bag from being broken due to excessive speed and heavy weight during the material blanking process. At the same time, it cooperates with the supporting device to hold the heavier bag to prevent the bag from being damaged.
10 heads weigher device :It adopts a stepping motor, which runs quietly, operates stably, and has a long life.
Stainless steel collection hopper: for packaging mate-rials with good fluidity, the collection hopper is used to effectively prevent the materials from being scat-tered everywhere.
Film transport device: The film transport device is made of high-quality materials, with smooth surface treatment, no scratching, no damage to the coil, flexible rotation of the film roller handling, suitable gaps, and the packaging coil does not run off, resulting in a perfect bag.
The film release device : It adopts a film release motor with brake function, so that the packaging film can be stopped freely without wasting the roll material. The film release position uses two thick steel fixing rings to fix the packaging film, so there is no worry about the deviation of the coil.
Introduction of ice pack quantitative packaging machine
It can automatically complete bag making, metering, blanking, sealing, slitting, counting, and can be configured to print batch numbers and other functions according to customer requirements. Adopt advanced microcomputer controller, drive stepping motor to control bag length, stable performance, convenient adjustment and accurate detection.
Main Features:
1. Multi-head combined weigher, improve metering speed and accuracy.
2. 7inch touch screen, easy operation and multiple language for choice.
3. Imported PLC system, machine performance is stable and easy for parameters adjusting.
4. With a memory function for storage ten sets of parameters. Easy to change packing product.
5. Separate PID temperature controller, suitable for various packing materials.
6. Multi-union roll film pulling system make film running more smooth.
7. Adopt double servo film-dragging structure, enable stable bag forming for perfect bag shape.
8. Sophisticated sealing framework achieve the consistency of bag sealing and cutting
Performance characteristics:
1. The ice cube packaging machine is made of cold-proof and rust-resistant stainless steel, which has good durability, reasonable design of the whole machine, simple operation and convenient maintenance
2. It adopts imported brand PLC control, man-machine interface touch screen control, sensitive touch, supports multiple languages, has data storage function, and can be switched freely
3. The ice cube packaging machine has an automatic correction function, the packaging film deviation occurs, and the system can automatically correct it, which greatly improves efficiency and saves packaging film, providing the reliability and intelligence of the entire ice cube packaging machine;
4. The packaging machine is equipped with a variety of automatic alarm functions, which will automatically alarm when there is a failure, so as to greatly reduce the loss;
5. It adopts double servo motors and double film pulling system to ensure that the ice cube packaging bag is conveyed smoothly and the bag is smooth.
6. Using an external film release mechanism, it is simple and convenient to replace the packaging film.
7. The self-developed two-head screw scale is used for weighing and measurement, with high measurement accuracy and fast speed.
Operating procedures:
The feeder vibrates and feeds the materials to the screw type electronic scale for automatic weighing, and then fills the materials with the target weight into the packaging machine, and then the finished product conveyor outputs the packed bags. It can realize automatic lifting, measuring, forming and sealing bags, date coding, and output a series of automatic packaging processes.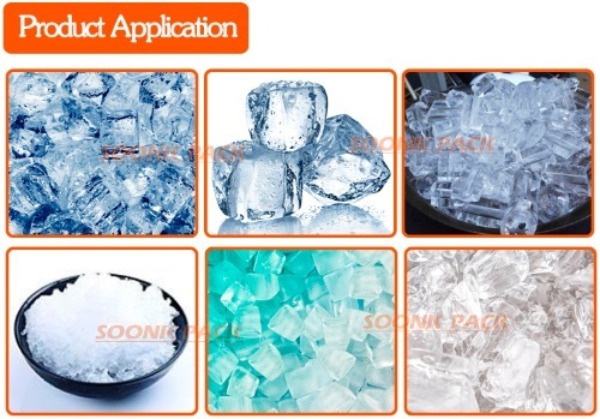 Suitable for packaging all kinds of rules, granular, block product,professional packaging block ice, tube ice, crushed ice, ice particles, ice cube.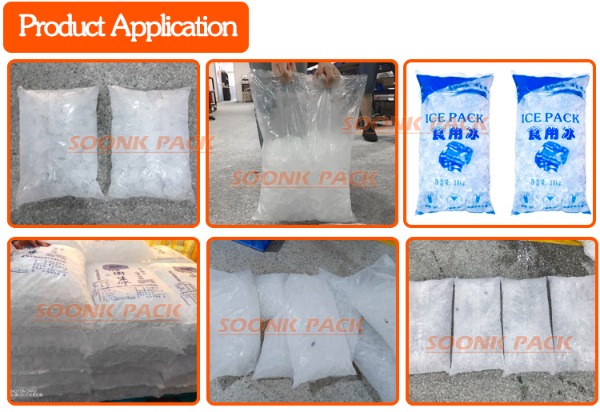 | | |
| --- | --- |
| Product name | SK-L420D10T 160 g ice cube/ice tube packaging machine |
| Air consumption consumption | 0.65mpa,2.5m3/min. |
| Packaging film width | 720mm |
| Bag length | 100-500mm |
| Bag width | 180-350 mm |
| Max outer diameter of coil | Max.360mm |
| Packing speed | 5-55 bags/min |
| Packaging film thickness | 0.04-0.08mm |
| Power Specifications | 220V.50/60Hz.3 Kw |
| Dimensions | (L)1800*(W)1310*(H)2050mm |
| Net weight | 700kg |
| Gross Weight | 750kg |
| Packaging materials | PE film |
Ice cube packaging machine packs 160 g of ice cubes easily and without pressure
For ice cube products, we know that they are produced by ice cube machines. The ice cube products produced by ice cube machines are manually packaged by hand. For ice cube packaging, because the temperature of ice cubes is relatively low, it is wet and cold, and the contact time is relatively low. The longer it is, the greater the resistance to ice. The use of manual packaging, slow packaging speed and low accuracy, slow efficiency, and lead to problems such as overdue delivery of orders or loss of orders.
Many bosses who produce ice cubes know that manual packaging is slow and low precision, but they don't know how to solve this problem. However, the birth of ice cube packaging machines has made ice cube packaging a major breakthrough. Said, the difficulty of packaging ice cubes is that the ice cubes will melt, and the material that needs to be used needs to be cold-resistant and rust-resistant, and the ice cubes will become denser and denser after vibration, and will not flow easily and stick to it. It is difficult for manufacturers with ice cube packaging machine experience to solve such problems.
But for the Soonk packaging machine, the Soonk ice cube packaging machine packs ice cubes easily and without pressure. Soonk packaging machinery has specially designed and developed a metering device that has been thought of for packaging ice cubes and ice particles. After measurement, when filling , it is easy to push, and it is not easy to cause problems such as blockage and accumulation. Generally, PE film is used for packaging ice cubes, and Soonk packaging machinery has also made changes to the packaging of PE film rolls, so that when ice cubes are packaged with PE film, it is easy and simple without blocking the material, etc.
CONTACT US


Foshan Soonk Packaging Machine Co., Ltd.
We are always providing our customers with reliable products and considerate services.
If you would like to keep touch with us directly, please go to contact us