Multi-function Automatic Premade Stand Up Zipper Pouch Bag Doypack Packing Machine
CONTACT US
SEND INQUIRY NOW
Tel: +86-757-81859859
Phone: +86-18902413057
Email: [email protected]
---
Multi-function Automatic Premade Stand Up Zipper Pouch Bag Doypack Packing Machine
---
This bag feeding machine is suitable for pre-made bags, such as Stand bag, zipper bag, flat bag (3 side seal, 4 side seal, bag with punched tote handle, pillow bag), etc.
Customized solutions for large-scale packaging production lines are mainly for large-scale packaging production needs. Realize automatic assembly line operation and realize production packaging generation.
The packaging production line can also make different packaging production line plans for different products. It can be the packaging of powder products, granular products and liquid products.


Machine Component
1) Main packing machine 2) Z-type material conveyor 3) 10 heads weigher
Main packing machine : Fully complete the production process of feeding, metering, filling, bag making, date printing and product output.
Z-type material conveyor:Z-type material conveyor can control the speed, which can raise the material to the 10-head combined electronic scale at a uniform speed, and is controlled by electric eye induction to ensure sufficient material.
10 heads weigher :High-precision sensors enable accurate metering for instant implementation.According to the characteristics of the object to be measured, the opening and closing speed of the hopper door can be finely adjusted to prevent breakage. All parts are made of stainless steel and are clean and hygienic.Good compatibility and easy to use with other packaging.
More detailed of premade bag packing machine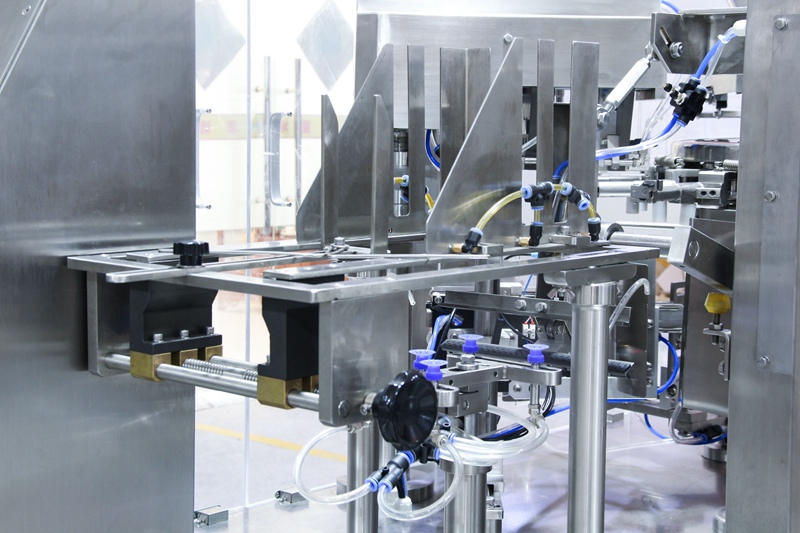 Opening bag device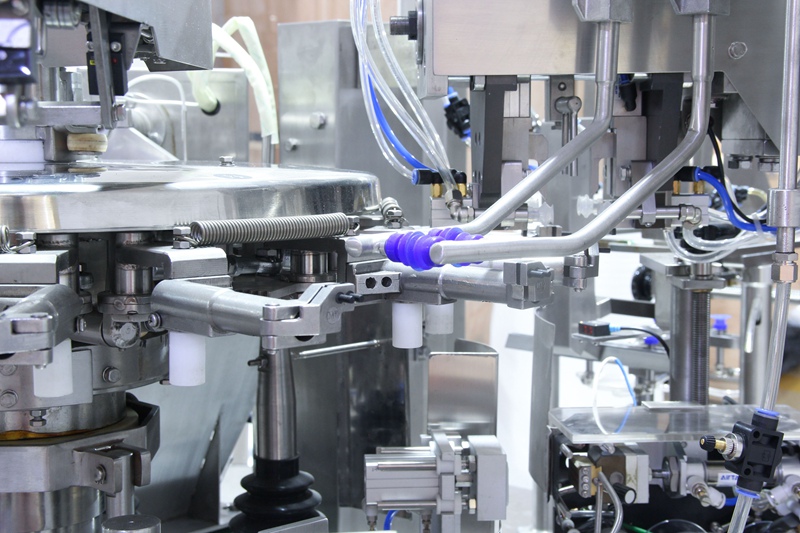 Clamping bag device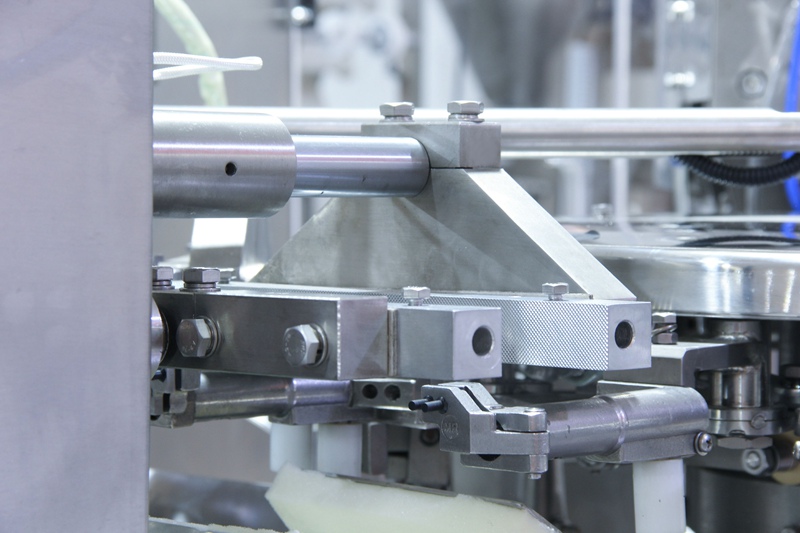 Sealing device
Performance Characteristic:
1. Extensive packing bag range,suitable for multilayer compound plastic prefabrication bag and paper bag,low loss and good sealing quality.
2. Quick and easy to change packing size,the width of automatic given bag device is easy to adjust by handle.
3. Standard with check device,which can check when there is without packing machine or packing bag is not open,the filling device and sealing device do not work to avoid wasting packing bags and material.
4. Frequency Control System ,packing speed can be adjusted within the range according to the actual situation.
5. Adopts PLC with touch screen control system,the man-machine interface,easy to learn and operate.
6. Instead of manual packaging, automatic bag removal, printing of production date, bag opening, signal measurement and blanking to the metering device, sealing machine output, good packaging, and beautiful appearance
7. Use stainless steel turntable: the turntable rotates to realize the functions of each station, and the stainless steel cam plate design reduces failure;
8. Bag storage, bag loading device, automatic adjustment with hand wheel.
9. Equipped with coding device, production date printing, customizable, automatic adjustment according to the production bag size;
10. Bag holder, integrated design of the new type of bag holder, gear control the opening size of the machine clamp;
11. Cooperate with Z-type feeding machine for feeding, reducing manual operation, convenient and quick
12. Equipped with ten-head computerized combination scale, the computerized combination scale weighs quickly and has high accuracy;
13. Used in conjunction with the supporting platform, the supporting platform can easily check the material condition of the combination scale and facilitate the sanitary cleaning of the combination scale and convenient maintenance in case of failure.
The material is raised to a 10-head electronic scale by the Z-type loader. The electronic scale is automatically weighed. Once the target weight is reached, it is filled to the packaging host, and finally the entire process of feeding, measuring, filling and bag making, printing date, and product delivery is fully automated.
Full-automatic screw packaging machine, automatic weighing bolt-to-bag packaging machine, detailed drawing, suitable for packaging all kinds of small granular screw accessories products, suitable for packaging various hardware accessories products, such as hardware: combination screws, nuts, gaskets, etc.; plastic Parts: expansion tube, rubber ring, other accessories, etc.; furniture accessories: self-tapping screws, fasteners, stamping parts, etc.; other accessories: bathroom hardware, electronic accessories, bicycle accessories, etc.
Bulk materials: dried tofu, young fish, eggs, candy, red dates, ginger slices, chocolate, biscuits, peanuts, green beans, pistachios, rock candy, daily necessities, puffed food, etc.
Granules: crystalline monosodium glutamate, granular medicines, capsules, seeds, chemical raw materials, sugar, chicken essence, melon seeds, nuts, pesticides, fertilizers, feed, etc.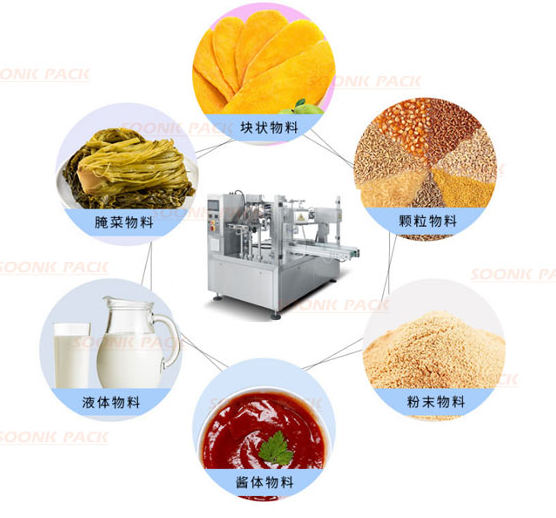 | | |
| --- | --- |
| Model | SK-G200Y6-D10T |
| Pouch type | Stand bag,zipper bag ,flat bag(3 side seal,4 side seal,bag with punched tote handle ,pillow bag ) |
| Size of bag | W:100-200mm;L:100-400mm |
| Filling bag | 10-2000g |
| Packaging speed | 20-60bags/min(depond on it products and filling weigh ) |
| Packing accuracy | ≤±1 |
| Power supply | 380V,50Hz/60Hz,3.5KW |
Stand bag,zipper bag ,flat bag(3 side seal,4 side seal,bag with punched tote handle ,pillow bag )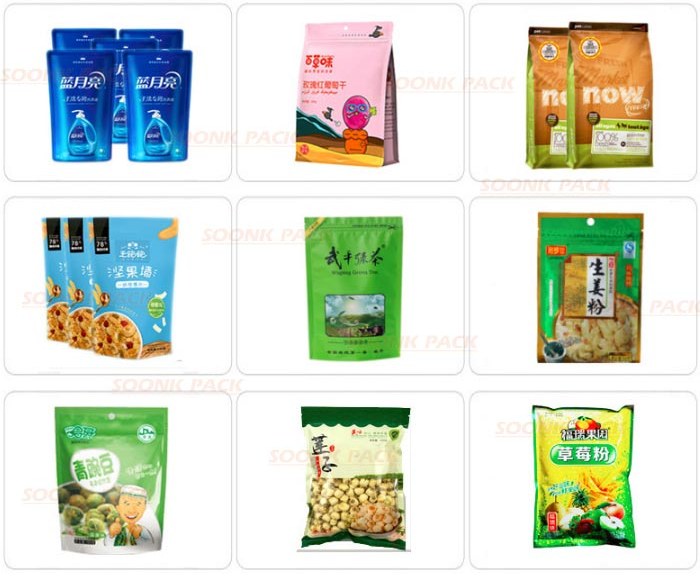 We need to know the material, bag size and weight, these things are very important to the packaging machine. The designer will provide a schematic diagram and a salesperson to provide a quotation plan based on the customer's material, weight and bag size.This is a Multi-function Automatic Premade Stand Up Zipper Pouch Bag Doypack Packing Machine, customers' common questions are as follows.
1. Judge whether the material is suitable for the machine? It is best to send the materials and packaging film to our company for free testing. 2. How to choose the material of the machine? Our machine has two materials, one is stainless steel and carbon steel. If you are pursuing high quality, choose stainless steel. If your financial budget is difficult, carbon steel is recommended. Although the appearance of the machine is carbon steel, the parts that come into contact with the material are made of stainless steel. 3. What is the error? Generally speaking, it is ±1% (depending on the characteristics of the material) 4. How many days does it take to produce a machine? The production time is about 30-45 days, because our machines are installed and debugged at the same time, so as to ensure high quality. 5. The customer also asked how long is the machine warranty period? We offer 12 months warranty, starts from the issue date of bill of loading and life time maintenance service. 6. Customers most often ask how to install and operate the video? You can't worry about this at all. Our company needs to provide user manuals, installation videos and operation of the machine, you can provide technical services when you encounter problems.
CONTACT US


Foshan Soonk Packaging Machine Co., Ltd.
We are always providing our customers with reliable products and considerate services.
If you would like to keep touch with us directly, please go to contact us