CONTACT US
SEND INQUIRY NOW
Tel: +86-757-81859859
Phone: +86-18902413057
Email: sales001@songkepack.com
---
Tapioca Balls/Black Tapioca Pearls Packaging Machine
---
This machine is suitable for three-side-sealed bag-type liquid products with small packages and small weights, such as liquid/sauce: detergent, rice wine, soy sauce, fruit juice, beverage, tomato sauce, peanut butter, jam, chili sauce, etc.
The main type of bag sealing machine is three side bag sealing type, which is a small gram material packaging machine for tapioca balls/black tapioca pearls balls. The soft tapioca balls and liquid juice were measured by two sets of feeding devices. Packaging speed, small footprint, economical and affordable
Machine Component
1) Main packing machine, 2) liquid filling metering device, 3) granular filling metering device.
Main packing machine: Fully complete the production process of feeding, metering, filling, bag making, date printing and product output.
Liquid filling metering device: Small size, CNC device, automatic filling, improve filling efficiency, filling accuracy and can adjust the weight of relevant data according to actual needs.
Granule filling metering device: Small size, CNC device, automatic filling, improve filling efficiency, filling accuracy and can adjust the weight of relevant data according to actual needs.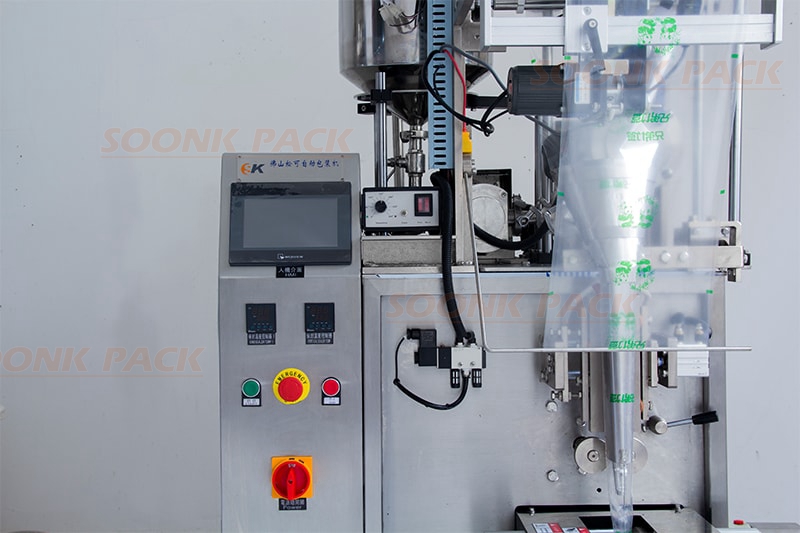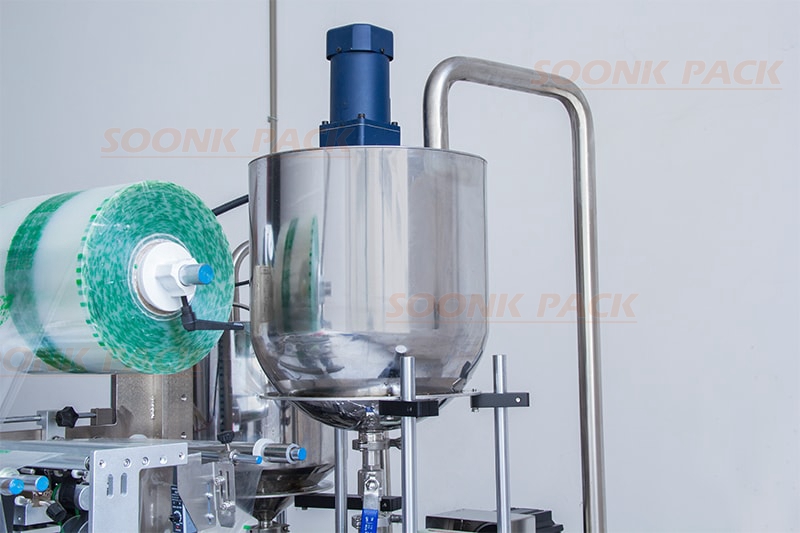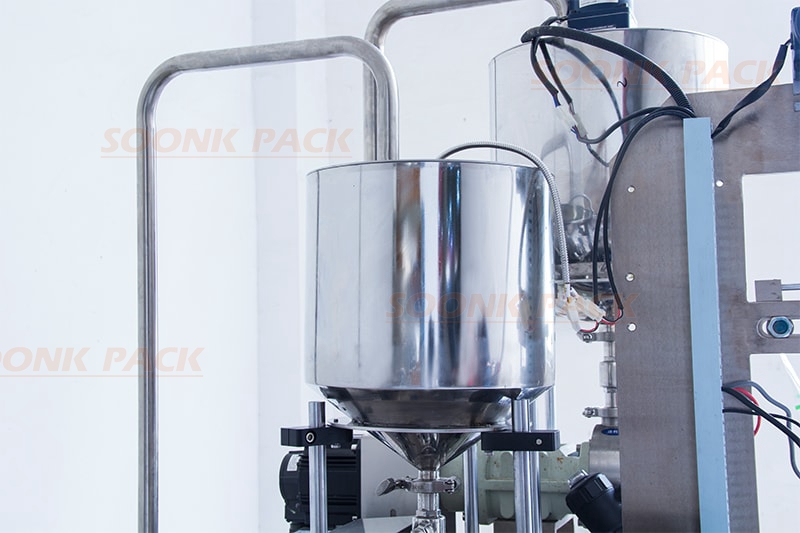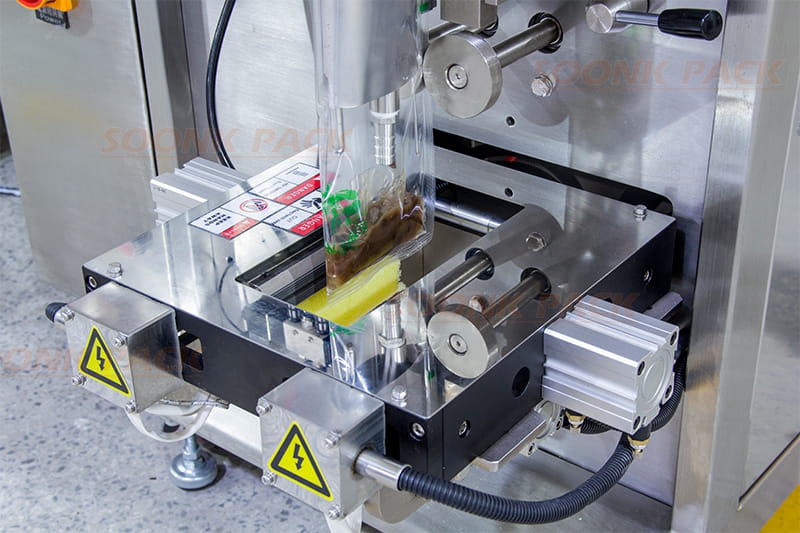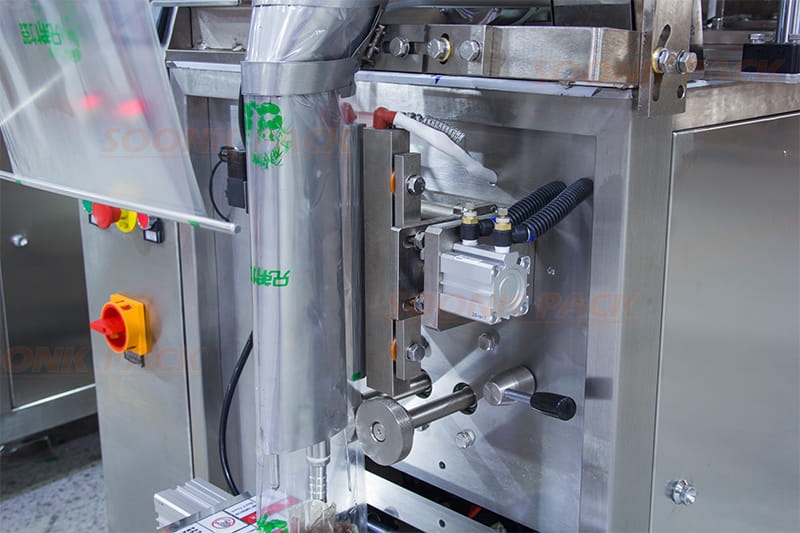 Performance Characteristics
1. The machine is featured with compact structure durable logical design and precise.
2. Adopts light sensor control system, stepping motor control film transporting system, reliable, and stable performance.
3. Using VVVF, operation is much stable, low noise and low malfunction.
4. It can finish automatically all processes, such as measuring, filling and bag marking.
The main type of bag sealing machine is three side bag sealing type, which is a small gram material packaging machine for tapioca balls/black tapioca pearls balls. The soft tapioca balls and liquid juice were measured by two sets of feeding devices. Packaging speed, small footprint, economical and affordable.
By lifting the material to the liquid canned metering device, the liquid canned metering device completes the weight measurement and then the material with the target weight is filled into the packaging machine. The machine can realize automatic lifting, measuring, forming sealing bag, date coding, a series of automatic packaging process.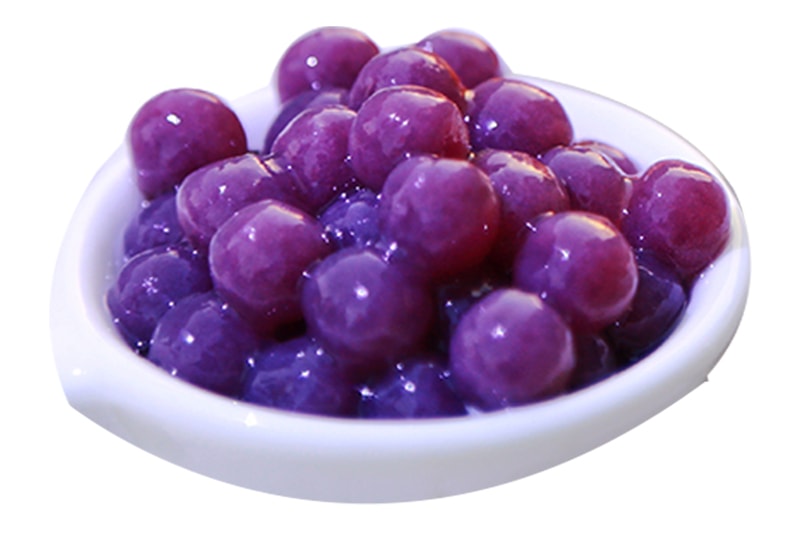 Liquids/sauces: detergents, rice wine, soy sauce, juice, beverages, ketchup, peanut butter, jam, chili sauce, tapioca balls, black tapioca pearl, boba balls and etc.
| | |
| --- | --- |
| Model | SK-L3B320QD-Y |
| Packaging Film | Max 320mm |
| Bag Length | 50-200mm |
| Bag Width | 30-150mm |
| Packing Film Roll Diameter | Max.300mm |
| Packaging Speed | 15-65bags/min |
| Packing Thickness | 0.04-0.08mm |
| Power Supply | 220V, 50Hz/60Hz, 2kW |
| Dimension | (L)1000*(W)1140*(H)1700mm |
| Total Weight of Machine | 350kg |
Three side seal

We need to know the material, bag size and weight, these things are very important to the packaging machine. The designer will provide a schematic diagram and a salesperson to provide a quotation plan based on the customer's material, weight and bag size. Three Side Seal Vegetables Granule Liquid Packaging Machine Manufacturers, the common questions from customers are as follows.
1. Need to judge whether the material is suitable for the machine? It is best to send the material and packaging film to our company for free testing. Regarding the material, this liquid machine is suitable for packaging liquid products with particles. Two liquid pumps can be used, one for particles and the other for liquid. 2. Regarding the size of the bag, what should the customer do if there is no bag size? The suggestion is to experiment with local markets and supermarkets to see which bag type and the weight you want to pack are the most popular. 3. Is the more shapers the better, so that more bag sizes can be packed? A set of machines can produce up to 3 formers, because the technology of replacing the formers is complicated, and changing the formers multiple times will result in the bag deviation. 4. How to choose the material of the machine? Our machine has two materials, one is stainless steel and carbon steel. If you are pursuing high quality, choose stainless steel. If your financial budget is difficult, carbon steel is recommended. Although the appearance of the machine is carbon steel, the parts that come into contact with the material are made of stainless steel. 5. What is the error? Generally speaking, it is ±1% (depending on the characteristics of the material) 6. How many days does it take to produce a machine? , The production time is about 20-30 days, because our machines are installed and debugged at the same time to ensure high quality. 7. The customer also asked how long is the machine warranty period? We offer 12 months warranty,starts from the issue date of bill of loading and life time maintenance service. 8. Customers ask most how to install and operate the video? You can't worry about this at all. Our company needs to provide user manuals, installation videos and operation of the machine, you can provide technical services when you encounter problems.
CONTACT US


Foshan Soonk Packaging Machine Co., Ltd.
We are always providing our customers with reliable products and considerate services.
If you would like to keep touch with us directly, please go to contact us